Spotify audiobooks: how to find, buy and listen to audiobooks on Spotify https://ift.tt/Zo5OAed
Spotify audiobooks are here: dive into the Spotify apps and you'll find a wealth of audiobooks to listen to, including some free options. With music and podcasts already well catered for, it means Spotify has just about every audio content category covered.
As with podcasts – added in 2015 – Spotify has worked hard to integrate audiobooks into its app interfaces as seamlessly as possible. You can browse through and search for audiobooks specifically and separately, and they're kept in their own section of your Spotify library once you've purchased and downloaded them.
There are some familiar tools available when you start listening to. You can listen offline, bookmark your place, and adjust the speed of playback easily in the Spotify apps. Here's everything you need to know about audiobooks on Spotify.
When did Spotify launch audiobooks?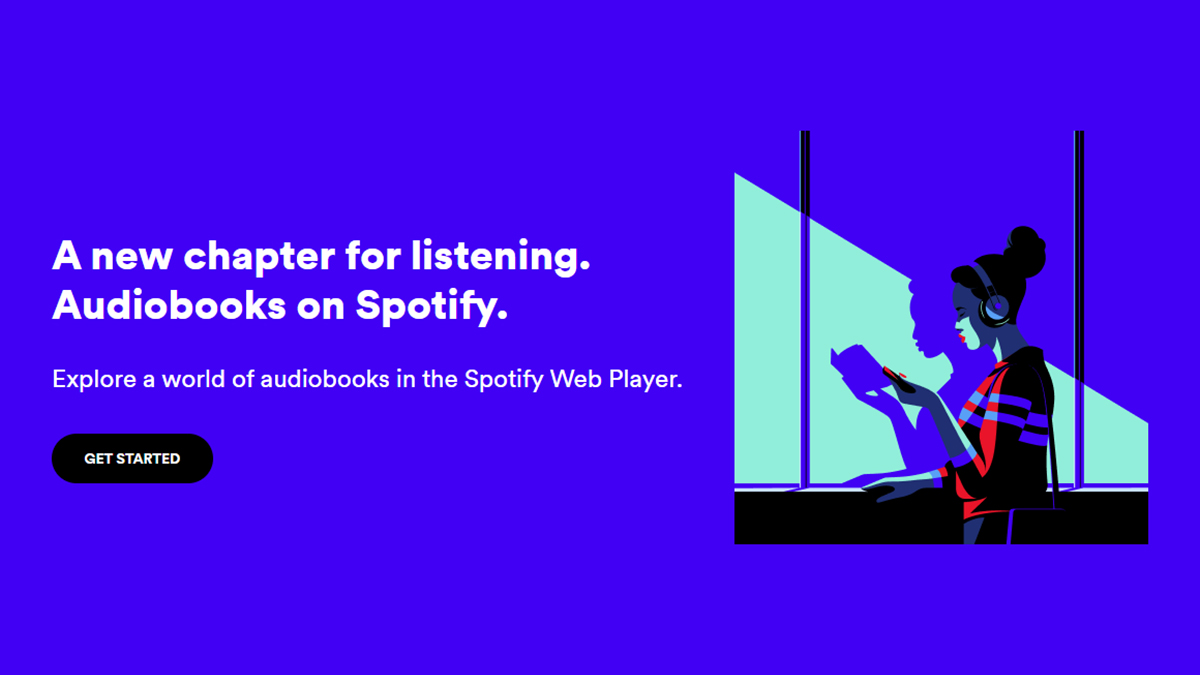 Audiobooks were added to Spotify for users in the US in September 2022. They were then made available in the UK, Ireland, Australia and New Zealand in November 2022, and in Canada in March 2023. At the moment, Spotify audiobooks aren't available on the streaming service in any other regions.
According to Spotify, users had been requesting audiobooks for years, and 300,000 titles were made available at launch – within a year, that was up to 350,000 titles, so there's new content being added regularly. Spotify has also promised that more features and functions are coming in the future.
"We've been testing, researching, and listening to figure out how to create the most seamless experience on Spotify," said Nir Zicherman, Spotify's Vice President and Global Head of Audiobooks and Gated Content, as Spotify audiobooks launched.
"Our hope is that users who find audiobooks in their apps starting today feel that the user experience is obvious – that audiobooks fit in perfectly with how they already use Spotify."
How much do audiobooks on Spotify cost?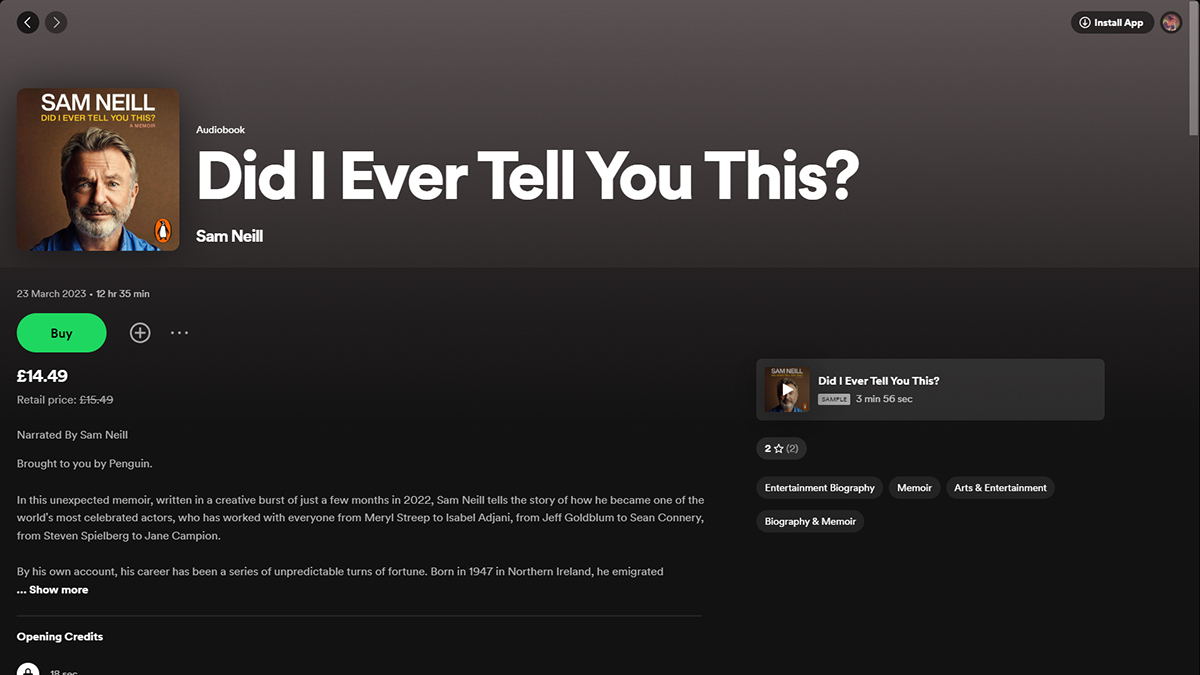 You'll find audiobooks across all kinds of price points on the Spotify platform, from free upwards, so you can pick and choose depending on your budget. Note that buying audiobooks works separately from a Spotify Premium subscription: audiobooks are one-off purchases handled separately, whether or not you pay Spotify a monthly subscription fee as well.
Or rather, that's the current situation. According to a Wall Street Journal report yesterday, Spotify is planning to offer subscribers a free trial of its audiobooks service "in the coming months." We'll watch that with interest.
Until that (potentially) happens, even Spotify Premium subscribers don't get a monthly allowance of credits to spend on audiobooks, as you do on Amazon's Audible (though with Audible, once you stop your subscription, you lose access to your content). Purchases are handled independently of any shared Family or Duo subscription, too – everyone's audiobook purchases are kept separate and aren't shared between users.
In terms of US currency, paid-for audiobooks start at just a few dollars and can go as high as $40 (that's roughly £32 / AU$62). Prices do fluctuate, though, with special deals coming and going - so if you've got your eye on a specific audiobook then we'd recommend waiting a few weeks to see if you can get it any cheaper.
How do you buy audiobooks on Spotify?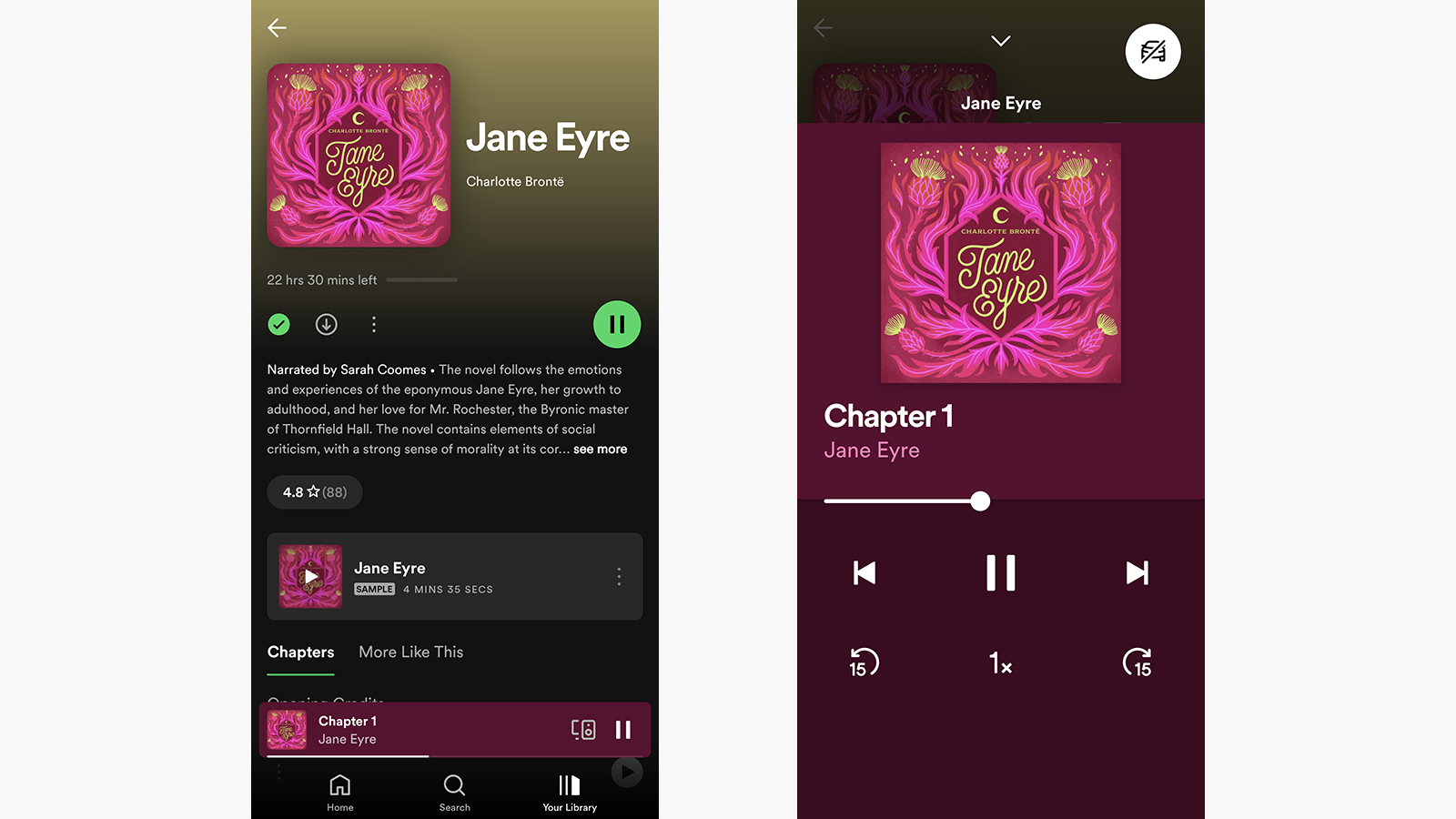 Open up the Spotify app on mobile, desktop, or the web, and you should see an Audiobooks link somewhere quite prominent (usually at the top) – it'll be alongside Music and Podcasts & Shows, so you can quickly get to the type of content you want.
You can also just use the search function as normal to look for audiobooks: you can search for specific titles or genres, and as you type out your search you'll see an Audiobooks filter button appear underneath that will narrow down your results.
The hundreds of thousands of audiobooks on Spotify cover all kinds of categories and genres, so you should be able to find plenty of titles that match your reading tastes. As you make purchases, you'll get recommendations from Spotify about what else to listen to.
Click or tap on an audiobook to see more information about it: a description, user reviews, how much it costs, the running time, and who narrates it. Audiobooks can be saved to your library too, even before you've purchased them.
Select Get or Buy to download an audiobook, and – if necessary – purchase it. Purchases are always handled on the web, so if you're in the desktop or mobile apps, you'll be redirected to a webpage so you can enter your payment details.
Once that's done, the title shows up in your library and it's ready to listen to. Any titles saved to your library that haven't yet been purchased will have a padlock icon next to them, which disappears when you actually buy the audiobook on Spotify.
When purchasing audiobooks, Spotify will default to any payment methods you've used before or that you use for your subscription, but you can change this if needed. You also get a confirmation email for every audiobook purchase you make.
Does Spotify offer any free audiobooks?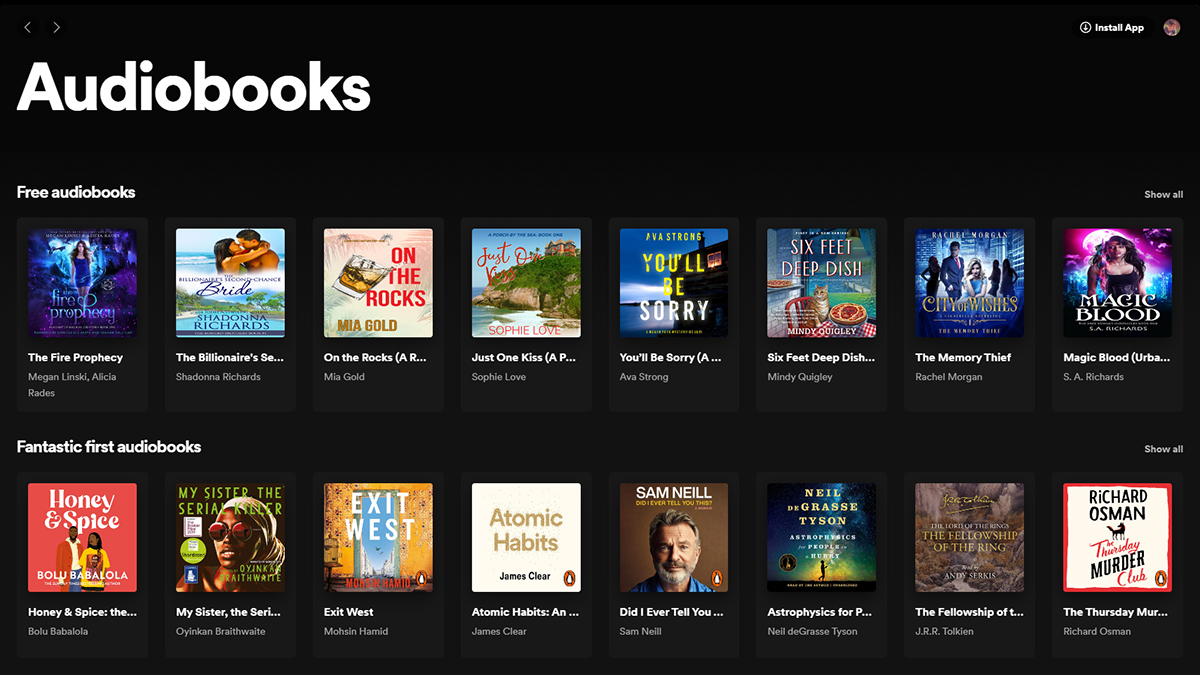 There's a small selection of free audiobooks on Spotify, so you can start listening without spending any money. It's also worth noting that every audiobook has a free preview you can listen to, available on the individual listings pages. You may well see a free audiobooks section on the home screen of the Spotify app, but if not you can search for "free audiobooks" as well.
As far as we can tell, based on lists of "best free Spotify audiobooks" that people have posted online, the selection of free audiobooks varies by country and varies over time too – it's a good idea to keep checking inside the Spotify apps or even searching for specific titles to see what's being offered free of charge.
The process of adding a free audiobook to your library is the same as when you purchase an audiobook on Spotify, only no payment details are required, and no money changes hands. The new title will be available in the audiobooks section of your library.
You might also like