Samsung HW-S60B soundbar review: wireless Dolby Atmos for a modest price https://ift.tt/WugxmzO
Samsung HW-S60B: Two-minute review
If you're after an all-in-one soundbar solution that sounds great with Samsung smarts, then the HW-S60B is a solid option packaged in a compact and slim design. On its own, it can give your TV's audio a significant step up, boosting its sound and adding features such as Alexa and Google Assistant voice assistants as well as more connectivity options like AirPlay 2.
With a 5.0 channel surround sound that supports Dolby Atmos and DTS:X, the HW-S60B soundbar works hard to deliver expansive surround sound (albeit digitally). It's great for watching movies and listening to music, but to the more attuned ear you might notice some slight shortcomings (go to the sound quality section for more).
It's priced at the lower end of the soundbar price spectrum, but still has loads of premium features. In fact, the HW-S60B could easily rival some of the best soundbars we've reviewed if it weren't for the fact that its biggest selling points are limited to just Samsung TVs from 2022 or newer.
For Samsung TV owners, though, you'll be able to wirelessly connect it to your set as well as other speakers or subwoofers from the range, which is great if you're already in the Samsung ecosystem. You'll also get access to Q Symphony and SoundFit, which are features seen among the top of the line soundbars in the range that allow you to use and calibrate both your TV's and soundbar's speakers at the same.
Losing out on the wireless feature isn't that much of big of a deal when considering its HDMI input and small footprint though. It will sit proudly in front of any media cabinet and won't take up too much space thanks to its slimming dimensions. In a nutshell, the HW-S60B is a small but mighty soundbar that's the ideal companion for Samsung TV owners.
Samsung HW-S60B: Price and release date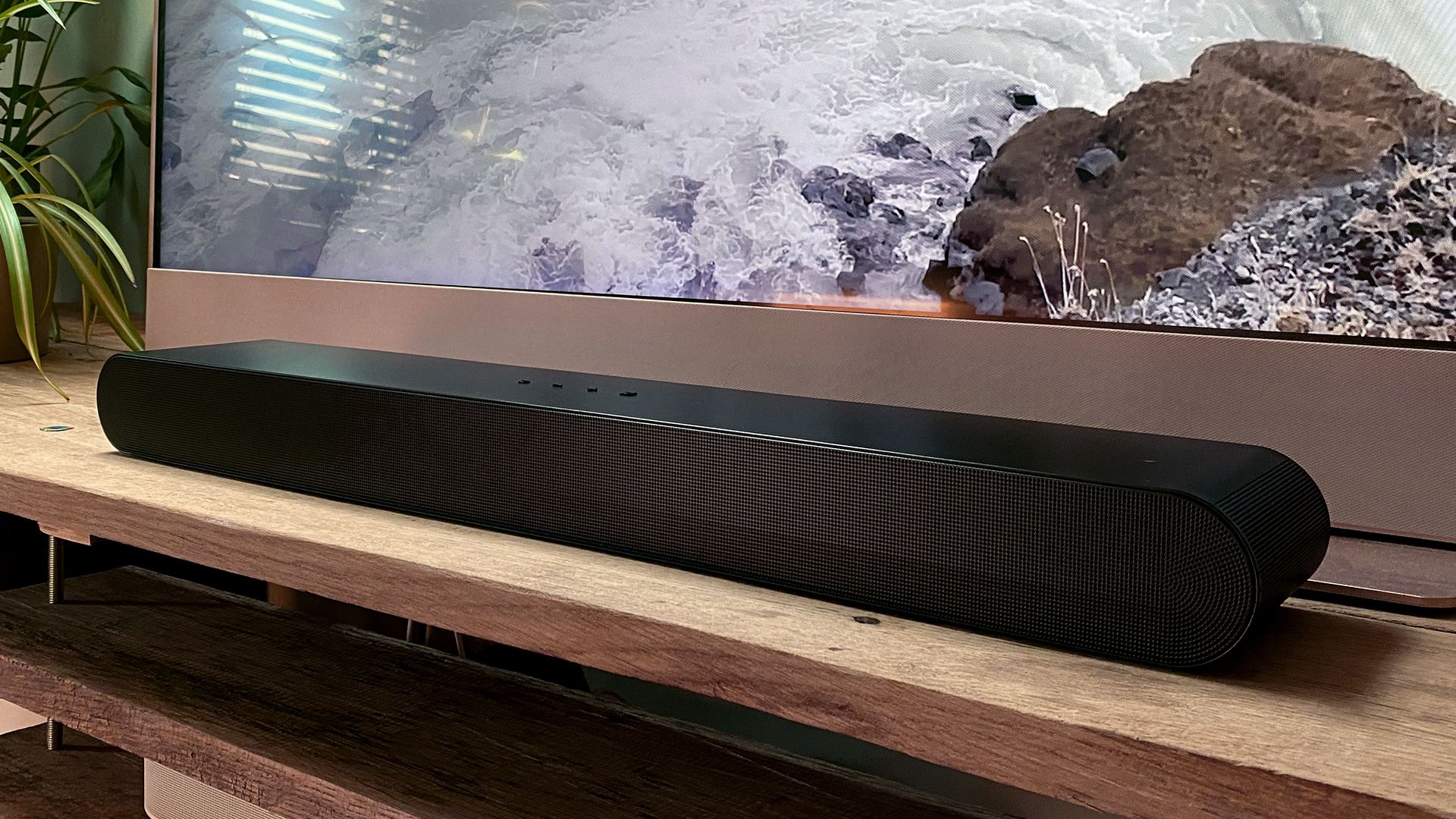 Released in April 2022
$499.99 / £449 / AU$599
Samsung launched the HW-S60B in 2022 as part of its S-series range. The range consists of soundbars with a central console and no subwoofer (also, if you like me are wondering, the H in the the model's name stands for high-end, while the W stands for wireless).
It launched at $499.99 in the US, which is in line with similar offerings from competitors like the Sonos Beam Gen 2 and Bose Smart soundbar 600. But, at the time of writing (September 2023), it is selling for a discounted price of $249.99, down from $349.99. In the UK, it'll set you back £449, while those in Australia can pick it up for AU$599.
The HW-S60B replaces the HW-S60A, which was launched in May 2021 for $329 in the US, £399 in the UK and AU$529 in Australia. It has also since been succeeded by the HW-S60C in 2023, which costs the same price at $499.99 / £289.99.
Samsung HW-S60B: Specs
Samsung HW-S60B: Features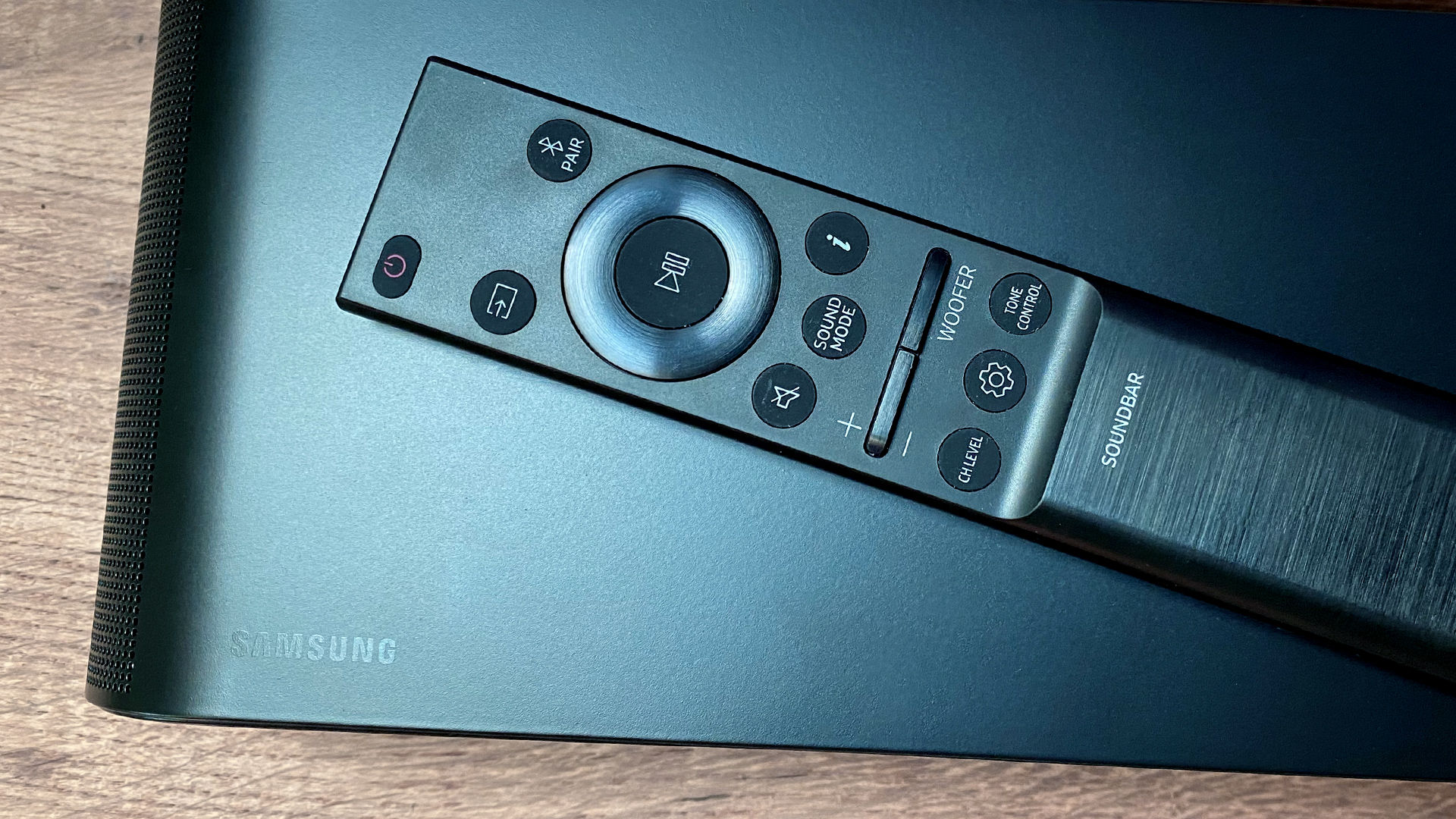 Wireless Dolby Atmos and Q-Symphony (if you have a Samsung TV)
HMDI ARC and optical digital connections
Wi-Fi, Bluetooth, AirPlay 2 and Alexa support
Samsung made some great upgrades to its lifestyle soundbar range in 2022, adding premium features like its proprietary SpaceFit Sound, which is a room tuning correction tool, and virtual Dolby Atmos/DTS:X surround sound. This completely elevates the all-in-one solution of the HW-S60B, allowing it to deliver 3D spatial audio formats without wires via a Wi-Fi connection.
However, its wireless capabilities, Samsung's Q-Symphony audio format and SpaceFit Sound feature are limited to selected Samsung TVs from 2022. You do see an option to turn on the SpaceFit Sound in the app, although this didn't appear to change much with my non-Samsung TV. Its wireless functionality is also probably the reason why there's only one HDMI port with ARC but sadly no eARC support.
You don't completely lose out by not having a Samsung TV though and for the sake of this review, I did not test this model out with one. There's still access to Samsung's own SmartThings control app to easily setup the soundbar and tweak settings, such as switching sound modes from Standard and Music to Game and Adaptive Sound as well as DTS:X (virtual). You can also adjust bass, treble and the channel levels for both centre and side speakers just as easy.
In addition to Wi-Fi, Bluetooth and AirPlay 2, I was be able to effortlessly stream music from my phone to the HW-S60B through the app's Tap Sound feature. It also has Spotify Connect, which allowed me to play music from anywhere in my home as long as I was in range. It's these types of connectivity features that I found really neat, as it made transforming my living space a seamless experience.
While I'm sure the Alexa support is useful if you have an Alexa-connected device connected to your SmartThings app already, with an iPhone it wasn't a straightforward experience for me and I wasn't able to get it working through the Alexa app. Overall, the HW-S60B is packed with helpful features but the limitations to a Samsung TV lose points for us.
Features score: 3.5/5
Samsung HW-S60B: Sound quality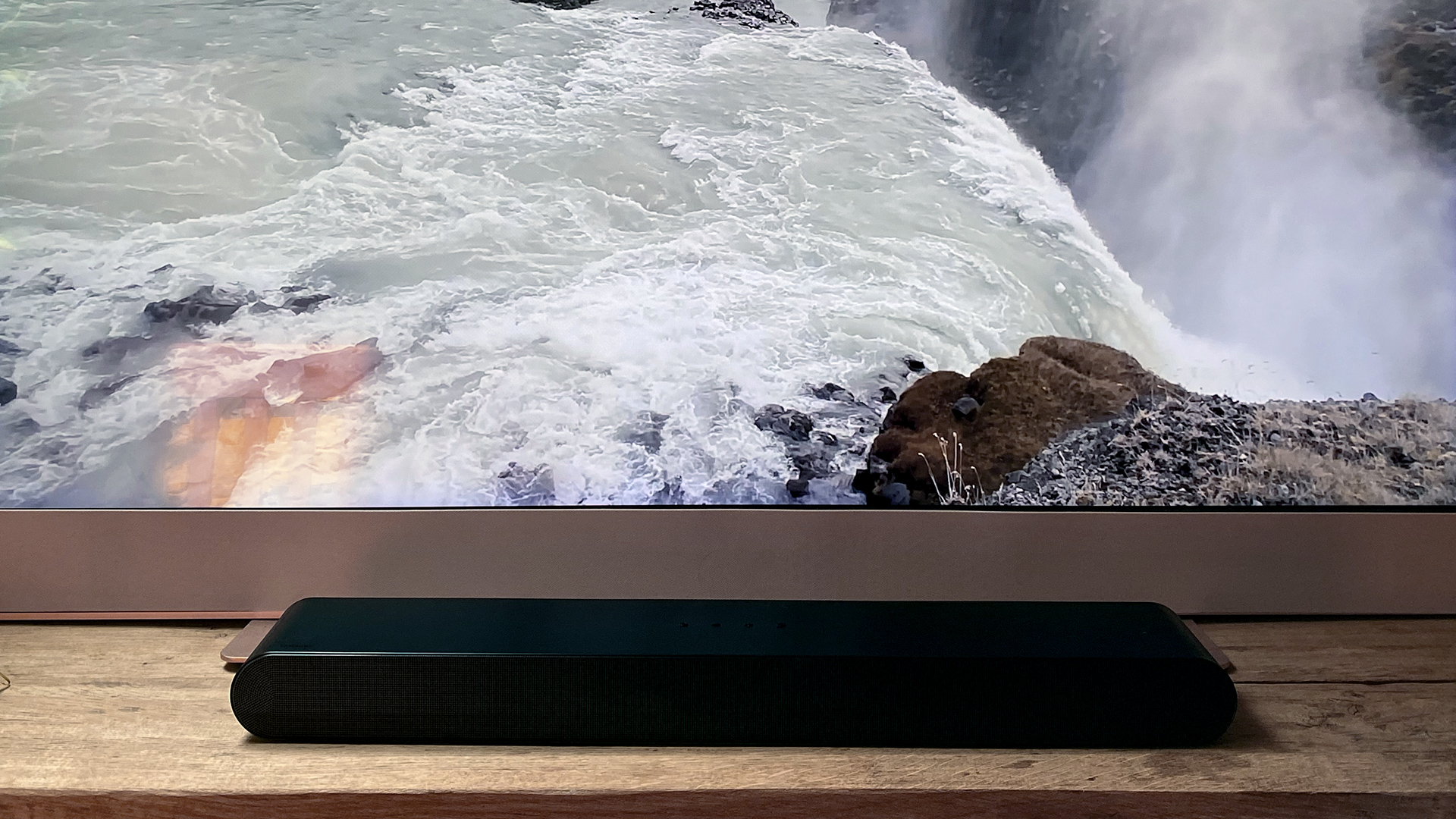 Expansive audio but can sound flat and lacks in bass
Loud and clear vocals
Useful sound modes
I tested the HW-S60B in a spacious room with soft furnishings connected to a non-Samsung TV through a HDMI cable to ARC. It was a big step-up from my TV's built-in audio and while the detail in the audio gets a little bit lost by turning the volume up, it had an impressive loud room-filling sound.
Given its compact size, I was very impressed with the expansive sound it was able to deliver. It was able to make dialogue expressive and clear. For example, while watching movies with the Voice Enhancement feature and Adaptive Sound mode turned on, it helped to increase the dialogue legibility of the likes of Christopher Nolan's Tenet, which is no small feat.
There are some big limitations in bass though, which is to be expected given its small size. These were very noticeable while watching action scenes, such as Top Gun: Maverick's test run training sequence, as it couldn't deliver the full might of the fighter jet's engines firing.
Listening to music is where you'll notice this even more though. As a reference track, I've heard Elton John's Rocket Man in million pound Dolby Atmos screening rooms and on premium Bower & Wilkins speakers, so know the incredible dynamic range needed to hit the highs and lows in the song. When I played this on the HW-S60B, I started to notice some limitations.
While listening in Music mode, I noticed that it still mainly revealed a compressed dynamic range and sounded a bit flat. The rhythmic bass that I was used to hearing was not there and the treble struggled to reveal the leveled range in the track that builds to the chorus. This wasn't limited to this track either and when compared to the Sonos Beam Gen 2, it was even more noticeable.
I tested the different sound performances from the TV but also through Bluetooth for listening to music via Apple Music. I also switched to Spotify while testing the Spotify Connect feature, which worked instantly when connecting via my iPhone.
Sound quality score: 3/5
Samsung HW-S60B: Design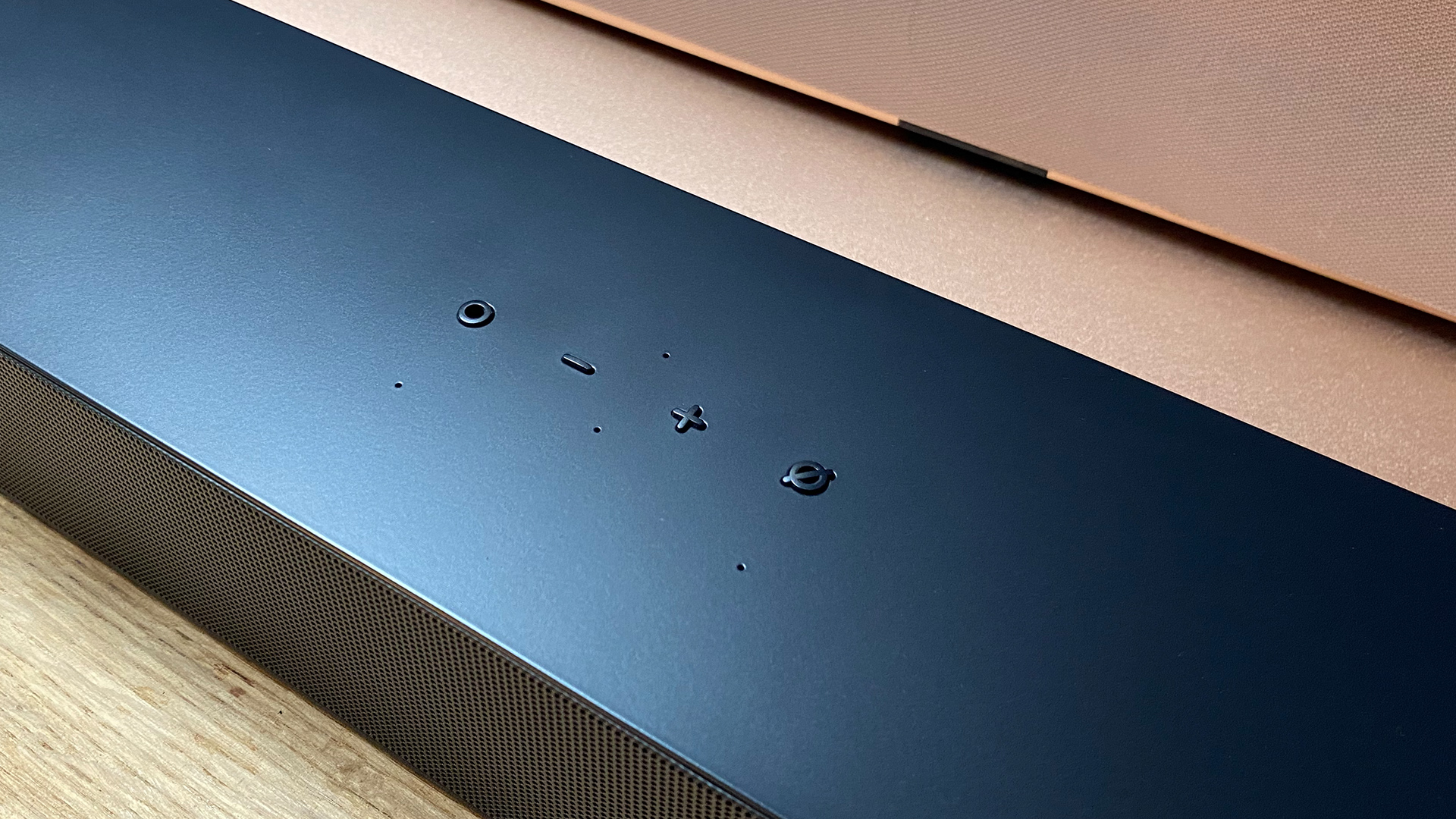 A small and slim profile with curved edges
Hard, robust-feeling plastic
Stylish remote is let down by flimsy buttons
Soundbars tend to take on a similar rectangular design and the HW-S60B doesn't stray too far from this, adding in rounded edges to boot. It's slim, sleek and subtle. The HW-S60B is the black model, while the HW-S61B is the white color option. In terms of any other detailing on the soundbar itself, it has a very small Samsung logo (once you get passed the giant sticker on the front of it).
It's not the slimmest of Samsung's soundbar range (that'd be the ultra-slim S800B, which comes in at just 38mm), but it's not going to block too much of your TV with a height of just 62mm. I found it very easy to adapt it into my setup.
The Samsung HW-S60B has a plastic gridded mesh around the speakers, ditching the fabric mesh that once covered its predecessor's speakers. It's weighty and doesn't feel like it's going to go anywhere, appearing inconspicuous underneath a TV.
It has four physical buttons on the top of it. These are dedicated to powering on and off, volume, as well as a connectivity option, which allowed me to pair my phone via Bluetooth, and an option to mute the mic. If you continue holding the connectivity button, you'll also be able to get to Wi-Fi and sound modes.
In addition to these controls, you also get a dedicated remote. This gives you quick access to sound modes, tone control, levels, Bluetooth pairing, muting and settings. The option to play and pause is in the middle of a circular directional keypad. It's the only part of the remote that sticks out slightly, aside from the two giant protruding pieces of plastic. They're for volume/channel and bass/treble control. And while being able to adjust these settings quickly is handy, the buttons themselves felt like they were a little too fragile.
Apart from the small Samsung logo at the bottom of it, the remote is fairly clear except for a handy reminder that says 'soundbar' on it (just in case you forget which remote is which). Overall, the remote – much like the soundbar itself – is a good looking slim design.
Design score: 4/5
Samsung HW-S60B: Setup and usability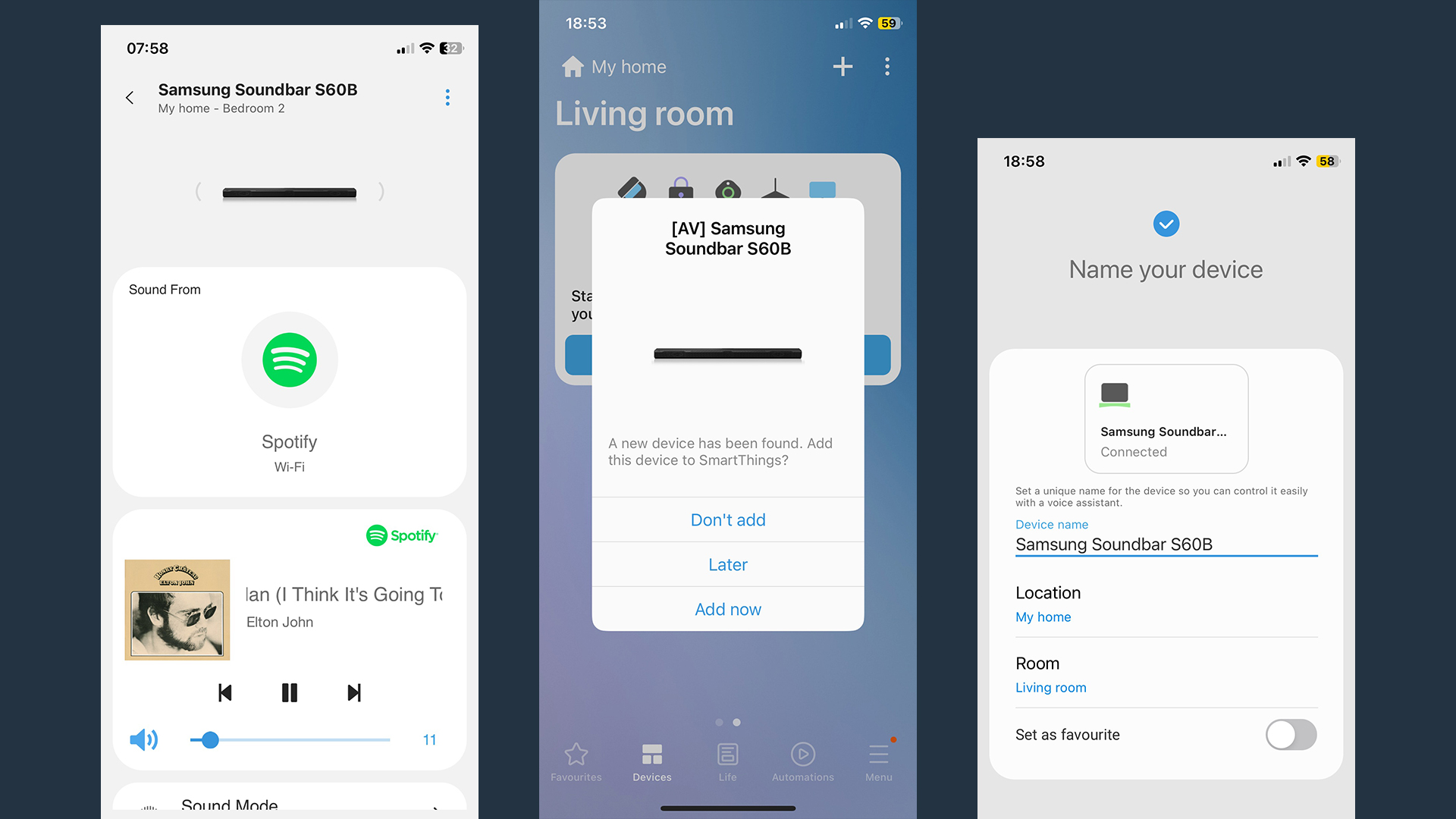 Quick and easy setup
No HDMI or optical cable included
SmartThings app is intuitive and better to use over the remote
The HW-S60B's packaging was neat and not too wasteful. Inside you'll find – aside from the soundbar itself of course – a power cable, remote, AA batteries, wall mounts and a manual, so you'll need your own HDMI and optical cord to get it going still.
Of course, if you own a Samsung TV then the lack of an input connection is not an issue as you'll be able to wirelessly tether via Wi-Fi, allowing you to access the Q-Symphony spatial audio and SpaceFit sound features.
For the purposes of my testing, I used the HDMI input. It was a quick and easy setup once connected to the TV and to a power source, that was it. I loaded up the SmartThings app to test, which gave me full control to a wide set of controls.
Samsung has worked hard to make the HW-S60B easy to use and setup, and it really is painless. The controls are very intuitive both from the physical clicker to your phone's screen to the soundbar itself.
Usability is really where the HW-S60B shines. It gives you plenty of options to control for no matter what you're doing. Whether you've just walked into the room and need to quickly turn it down by the soundbar or if you're on your phone. There are some controls that work better than others though.
For example, adjusting the bass, treble, volume and channels is much simpler to do in the app, where you get a dial. On the remote, however, it's slightly fiddly as you have to switch the settings around for bass and treble as well as volume and channels using a button that activates a voice to tell you which you're now changing.
Overall, the HW-S60B was a walk in the park when it came to functionality and usability. With such a quick and pain-free setup thanks to the SmartThings app, Samsung has made it easy to start instantly playing audio.
Setup and usability score: 4/5
Samsung HW-S60B: Value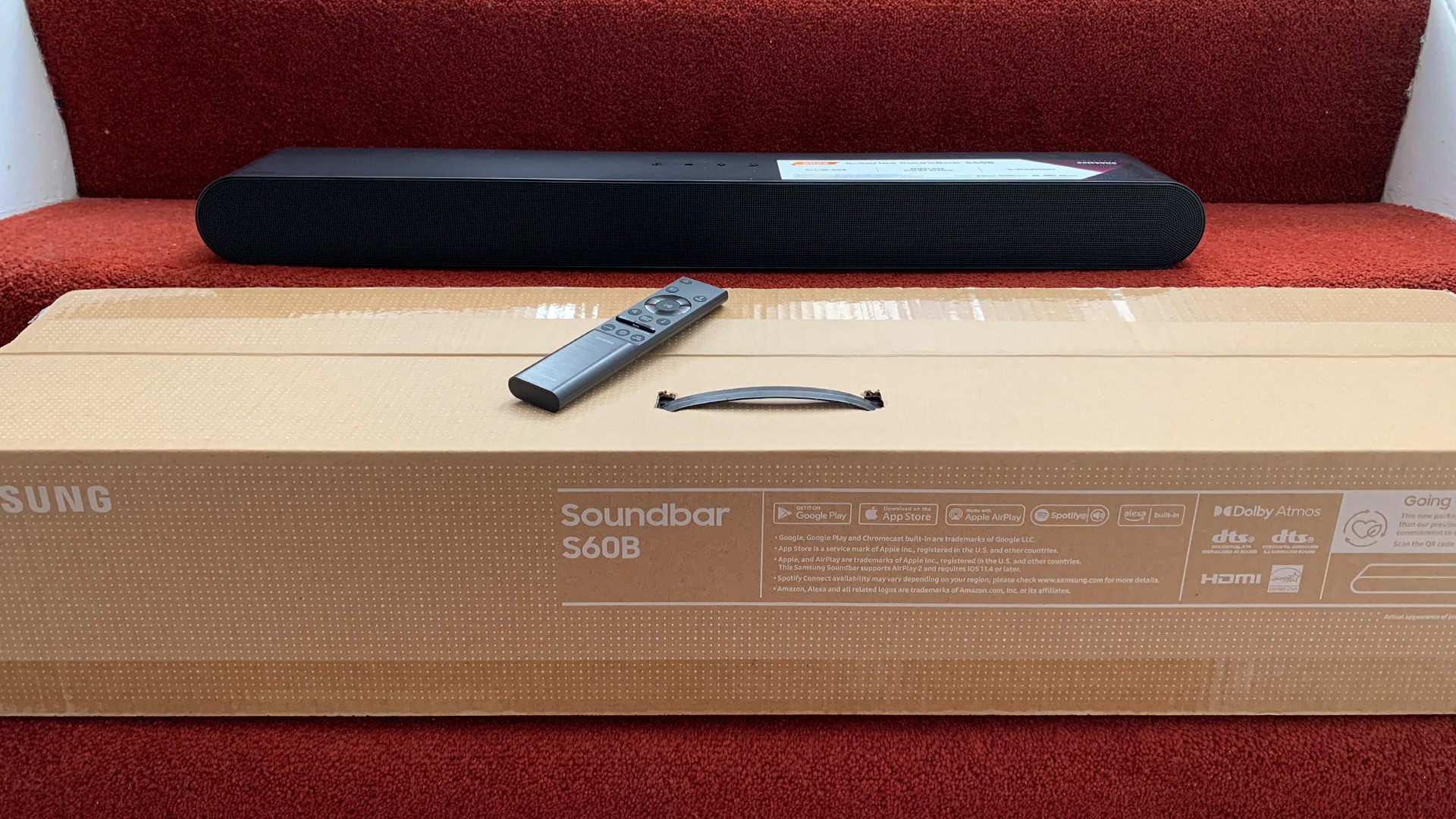 Great value and feaures for Samsung TV owners
Soundstage is limited but fair at this level
If you own a Samsung TV, then the HW-S60B is going to be the best value option for you as you'll get way more features and usability perks out of it than those without. Although, if you can spend a bit more money then it might be worth looking at the company's Q-series soundbar range instead as you'll find more premium features on offer.
On its own, though, the HW-S60B is still a great option for anyone not looking to spend too much money on their first soundbar. Ultimately, it's good value by itself but great value if you already own or plan to buy more Samsung products.
Value score: 4/5
Should I buy Samsung's HW-S60B?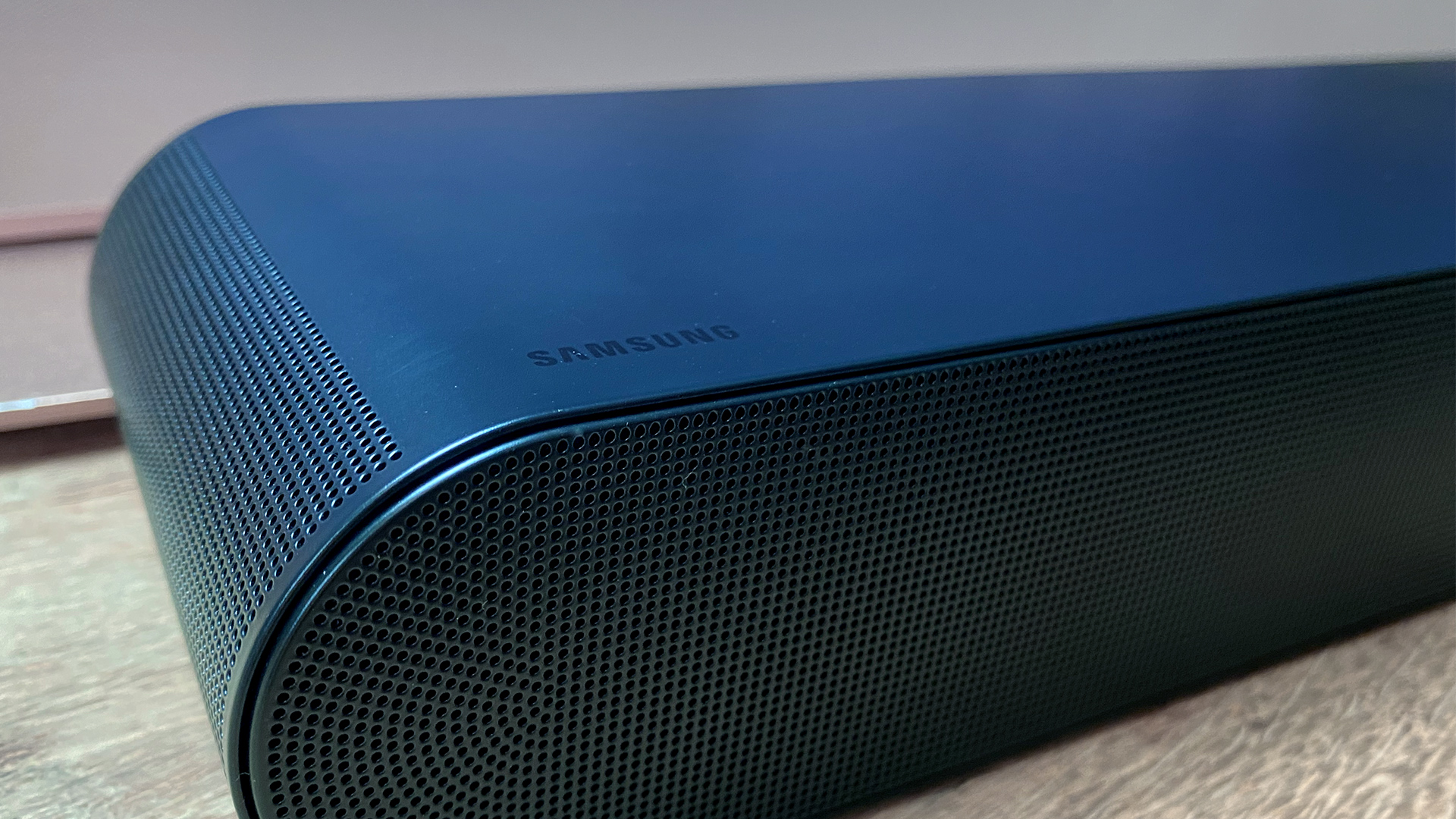 Buy it if...
Don't buy it if...
Also consider
How I tested the Samsung HW-S60B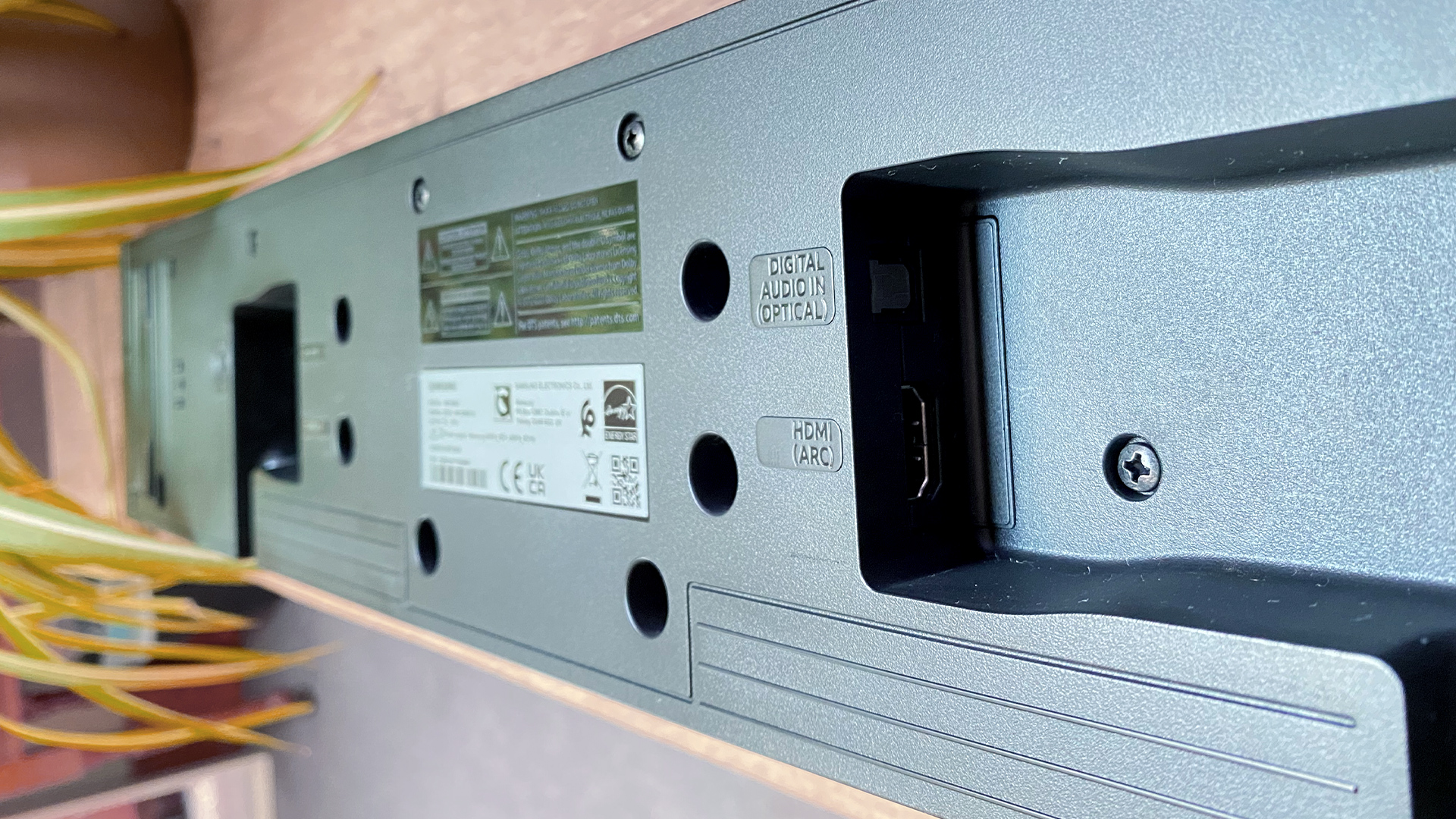 Tested for over two weeks
Tested with streaming and the Xbox One
Reviewed in a standard living space
I tested the Samsung HW-S60B with a Sky Glass TV for more than two weeks. The soundbar was used for watching regular TV as well as for streaming during the evenings. I also connected it to an Xbox One to test it out while gaming and tested the Bluetooth connectivity by streaming music over my iPhone XS.
The room that it was used in was of standard size and had soft furnishings throughout, although this wasn't too much of an issue given that the Q Symphony and SoundFit weren't used for this review.
Read TechRadar's review guarantee
First reviewed September 2023