Review: GravaStar's Unique Robot-Inspired Power Adapter Fast-Charges iPhone and Offers Two USB-C Ports https://ift.tt/hH269qu
GravaStar
is a small company that designs quirky speakers and unique desktop power adapters, and its latest product, the
Delta35 GaN Fast Charger
, combines fun and functionality. The Delta35 is a 35-watt power adapter that looks like a little robot.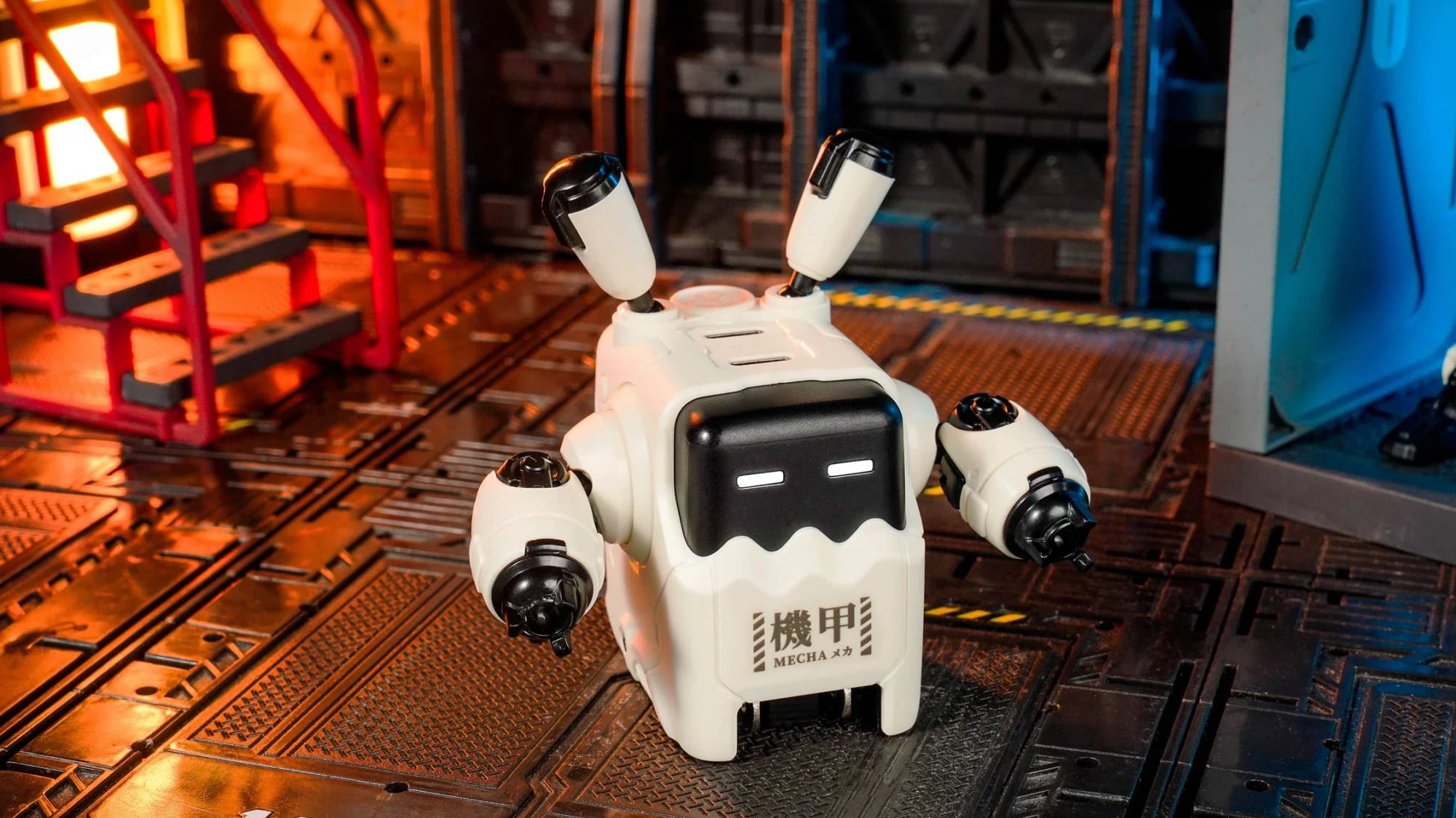 There are two USB-C ports at the top of the power adapter, LED lights that serve as eyes and glow when the adapter is in use, and fold-up prongs for charging at the bottom. GravaStar has also added two ball-jointed ears or antennae, and two ball-jointed arms.
Both the antennae and the arms can be repositioned and moved around, so the little robot charger can serve as a desktop distraction when it's not in use as a charger. The arms, antennae, and other robotic design elements serve no practical purpose, but they add visual interest to the power adapter.
The two USB-C ports on the Delta35 are at the top of the power adapter. Given this design, it works well plugged into a desktop power strip because that is the ideal orientation of the charger, but it can also be used in the wall. Note that it will look a little odd plugged into the wall because the robot's features will be sideways.
This is a charger that uses Gallium Nitride (GaN) technology as most do these days, so it is compact. It does not take up much room on a desktop and is similar in size to an
iPad
charger. While the prongs fold down, the arms and antennae add bulk. Even so, it's still small enough to be tucked into a bag for use as a charger when on the go.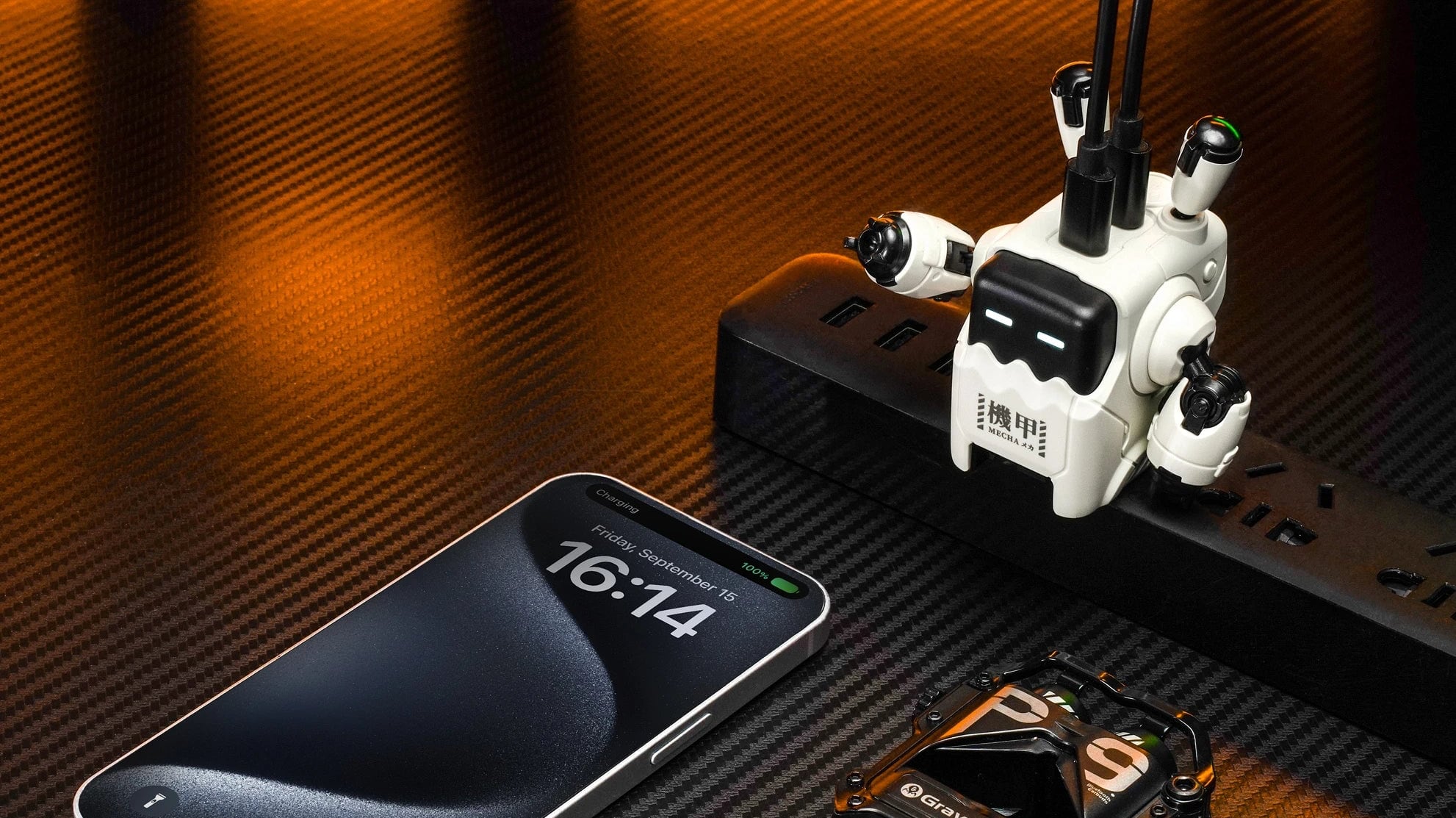 The Delta35 maxes out at 35W, which is enough to charge an
iPhone
, ‌iPad‌, or MacBook, but it isn't enough capacity to charge multiple devices at their maximum speeds at one time. With just the
iPhone 15
plugged in, the Delta35 is sized for fast charging, and it can deliver a ~50 percent charge in 30 minutes.
When two devices are plugged in, the power is split between them with each port receiving 12W, so charging speeds slow down. 35W is on the lower side for a two-port charger, but if you're doing something like charging an ‌iPhone‌ and ‌iPad‌ on your desk throughout the day and don't need power quick, it works out well as a desktop solution.
In my testing, the Delta35 worked as expected, and I appreciated the design, but I do wish it was delivering more power. As it stands, it is appropriate for the ‌iPhone‌, ‌iPad‌,
MacBook Air
and other similar smaller devices, but not more powerful Macs.
I will point out that this is essentially the same as the 35W dual USB-C power adapter that Apple offers alongside the ‌MacBook Air‌ and charges $59 for. GravaStar's version is cuter and costs a lot less at $30.
The Delta35 GaN Fast Charger can be
ordered from the GravaStar website
for $29.95. It comes in white and pink and will be shipped starting on October 20.
This article, "
Review: GravaStar's Unique Robot-Inspired Power Adapter Fast-Charges iPhone and Offers Two USB-C Ports
" first appeared on
MacRumors.com
Discuss this article
in our forums