Epson's new 4K projector is the bright streaming machine your living room needs https://ift.tt/oceUhnI
Epson has announced a new addition to its ultra short throw projector (UST) family. The EpiqVision Ultra LS650 Smart Streaming Laser Projector is designed to fill out the company's current UST lineup, slotting in between the EpiqVision Ultra LS500 and EpiqVision Ultra LS800.
Similar to Epson's other projectors, the LS650 uses 3-Chip 3LCD technology, in this case to beam images up to 120 inches with 3,600 lumens color and white brightness. That level of light output nearly matches the capabilities of the company's LS800, the best projector for sports selection in our best ultra short throw projectors guide.
One difference between the LS800 and the new LS650 is that the latter has a longer throw ratio, requiring a 10.5-inch installation away from a 100-inch screen. (The LS800 can be installed at a 3.9-inch distance for the same screen size.) Once the projector has been placed, viewers can use Epson's iOS and Android Setting Assistant app to complete setup, with the app providing detailed geometric correction at up to 33 x 33 points.
The new Epson UST uses 4K PRO-UHD2 technology with advanced pixel-shifting to create detailed 4K images. It supports HDR10 and HLG high dynamic range, and it features dual HDMI inputs, including one with eARC. An Android TV 6 interface provides built-in streaming from Amazon Prime Video, Hulu, Disney Plus, YouTube, and other apps, and viewers can conduct voice searches using the built-in Google Assistant.
UST projectors are an all-in-one home cinema solution, and Epson has the sound part covered with a 2.1 virtual surround system designed by Yamaha. The built-in speakers are wrapped by a new metal grille design, which just looking at the pictures is a step-up visually, and presumably sonically, from the fabric mesh grilles used by other UST projectors.
The Epson EpiqVision Ultra LS650 will be sold in a black or white option. Pricing and availability hasn't yet been announced for the US, but the LS650 will retail in the UK for £2,299 (around $2,900 / AU$4,500) with shipping scheduled for October.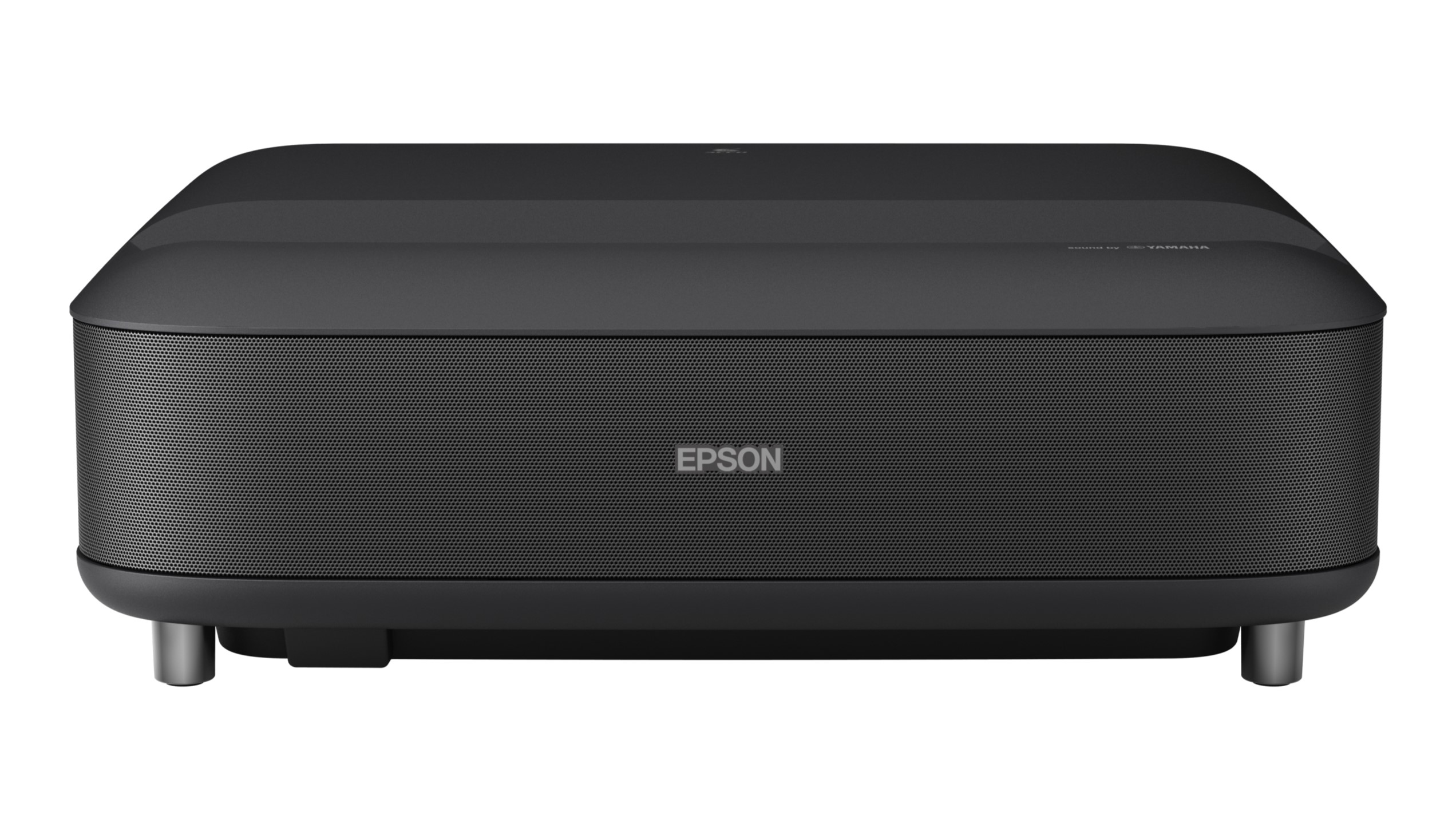 Opinion: Epson's new projector could be the brightness-for-price champ
There's a good reason why Epson's LS800 is listed as the best option for sports in our UST projector buying guide. With a 4,000 lumens light output, it's the brightest UST we know of, and one that can provide a sufficiently bright and contrasty image even in a room that's flooded with daylight.
Here's how the LS800 was described in our review: "Bright scenes are easy to see in any condition, and with the shades drawn for a room that's easy to see in, the projector still offers a serviceable image for very dark movies, like The Batman." All in all, that's pretty impressive performance for a projector priced at $3,499 / £3,199 (about AU$5,240).
Epson's new LS650 is spec'd for 3,600 lumens brightness, and while that's not as high a light output as what you'll get from its LS800 big brother, it's not far off. It's also about equivalent brightness to what you'll get from the LG Cinebeam HU915QE, another top pick in our UST buying guide that's priced at $5,999 / AU$9,999 (about £5,600).
Given that the LS650 will be selling in the UK for £2,299, we expect it to be priced lower than Epson's LS800 in the US, possibly in the under-$3,000 range. If it does arrive at that cost, it will hit a sweet spot between price and performance, making it a compelling UST option for home theater-style viewing in a wide range of environments.
you might also like