Microsoft Edge Password Manager Review: Pros & Cons, Features, Ratings, Pricing and more https://ift.tt/9oSkbmr
If you're looking for a browser with basic built-in password management features like autofill and payment detail saving, Edge's password manager should have you covered.
A distinct lack of syncing abilities really make it stand out against its competition, and for all the wrong reasons. In the modern-day era of smartphone computing, users looking for access to their passwords from anywhere will be disappointed.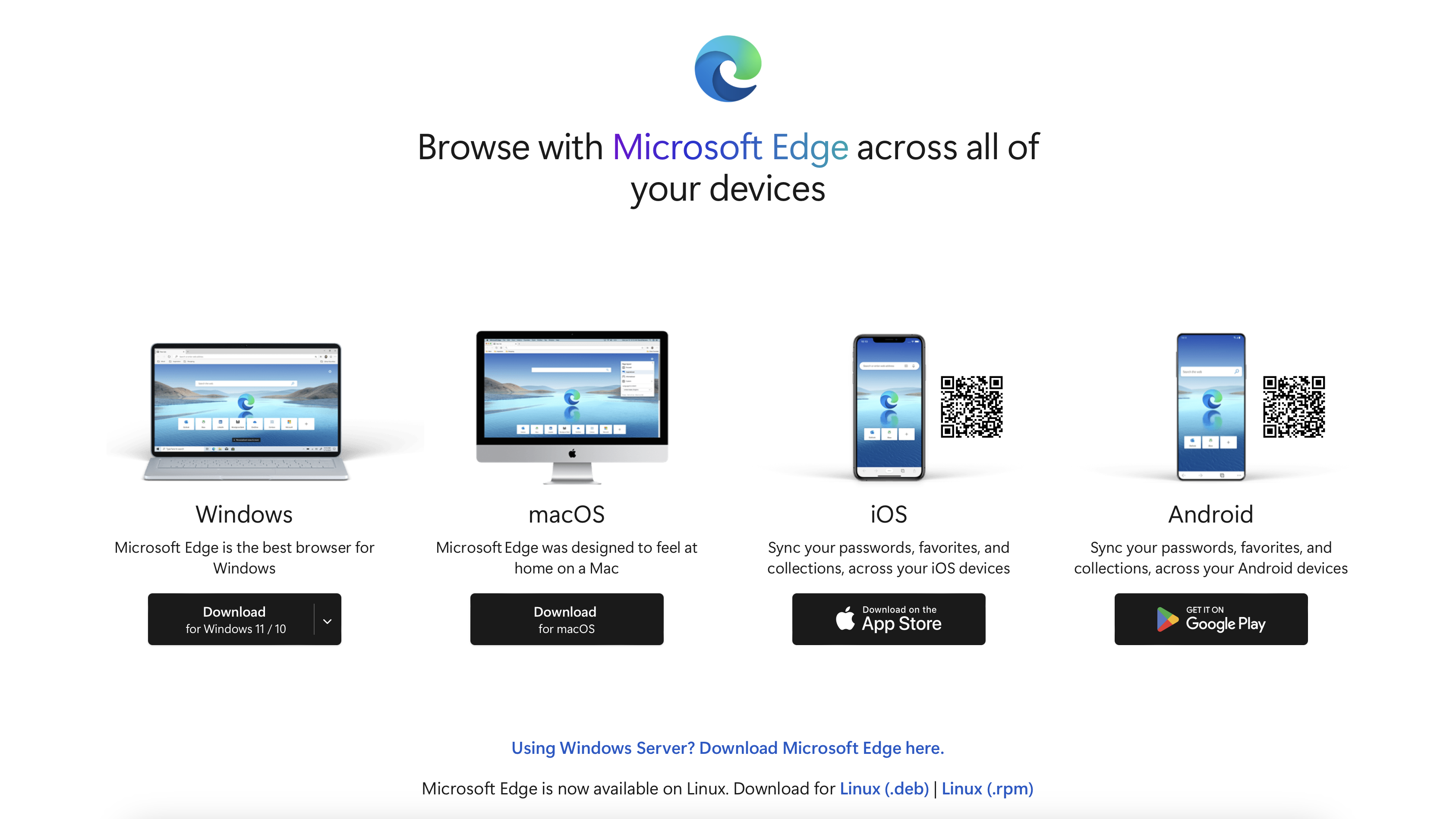 Microsoft Edge Password Manager: Plans and pricing
Microsoft Edge is a free browser that comes preinstalled on Windows devices from Windows 7 up. It's also available on macOS from version 10.13 (also known as High Sierra) up, including Apple Silicon Macs. Linux machines are currently only eligible for a preview of Edge, meaning it's just Chromebooks that can't run the Microsoft-developed browser (as they're limited to, well, Chrome).
Because iCloud Keychain and Google Password Manager sync to the cloud, they tie into each company's cloud storage subscription. Edge does things differently by saving (and encrypting) locally, so the built-in password manager is entirely disconnected from any Microsoft subscriptions like Microsoft 365, leaving users free to choose whichever online services they want.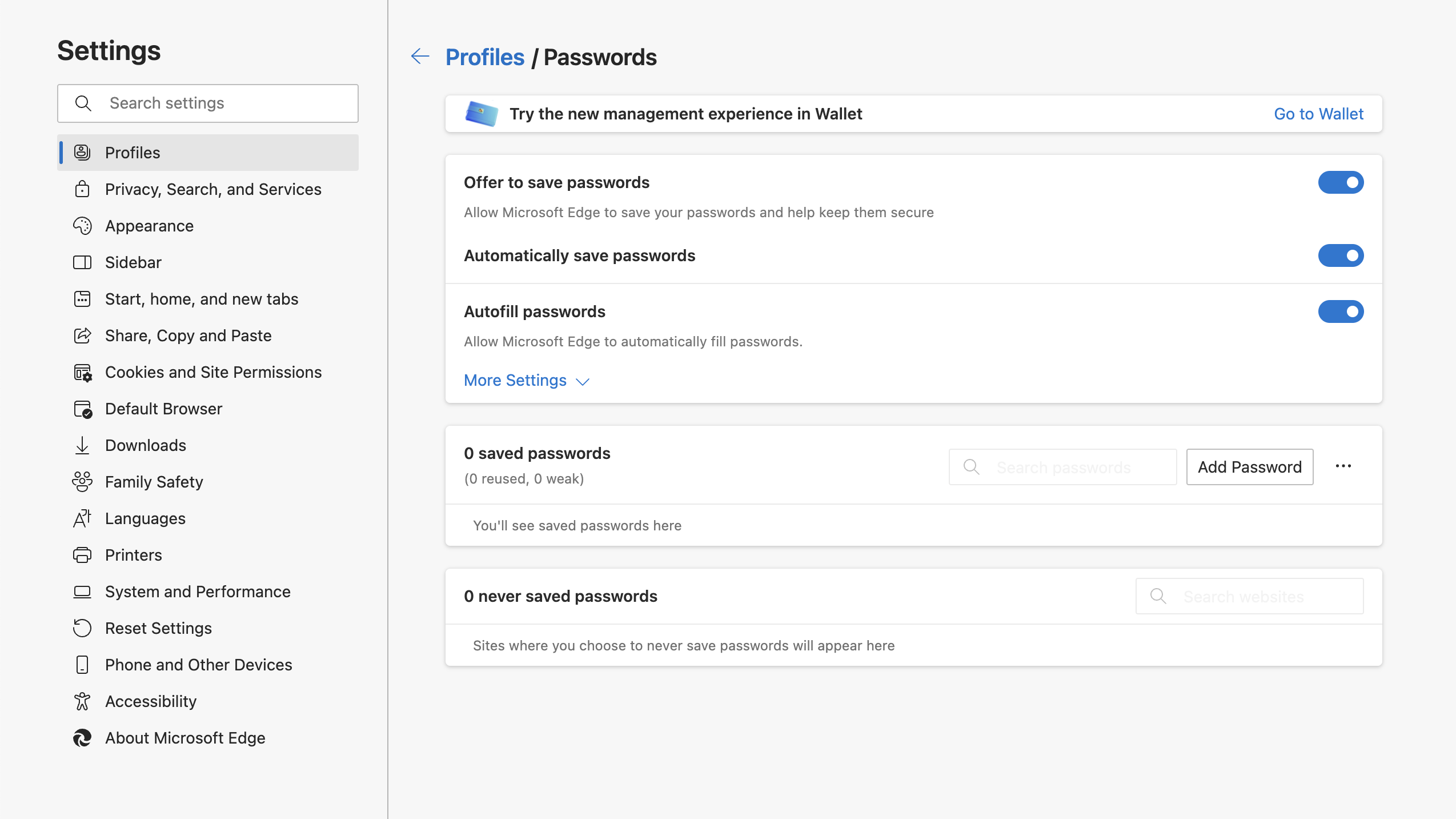 Microsoft Edge Password Manager: Setup
Setting up the password manager is simple and, because it doesn't sync with the Internet, it's as easy as being on or off. More on where your passwords are stored in the Security section below.
Setting up the password manager is handled from the Settings menu in Edge, under Profiles > Passwords. This is also where you can view saved passwords should you need to copy them into a different browser or share them with somebody.
Deleting passwords requires users to navigate to Settings > Privacy, search, and services > Clear browsing data > Choose what to clear, where Passwords is available as an option. Because this is a more confusing process, it's worth making a note of how to get there or bookmarking this page in case you decide that you no longer want Edge to store your passwords.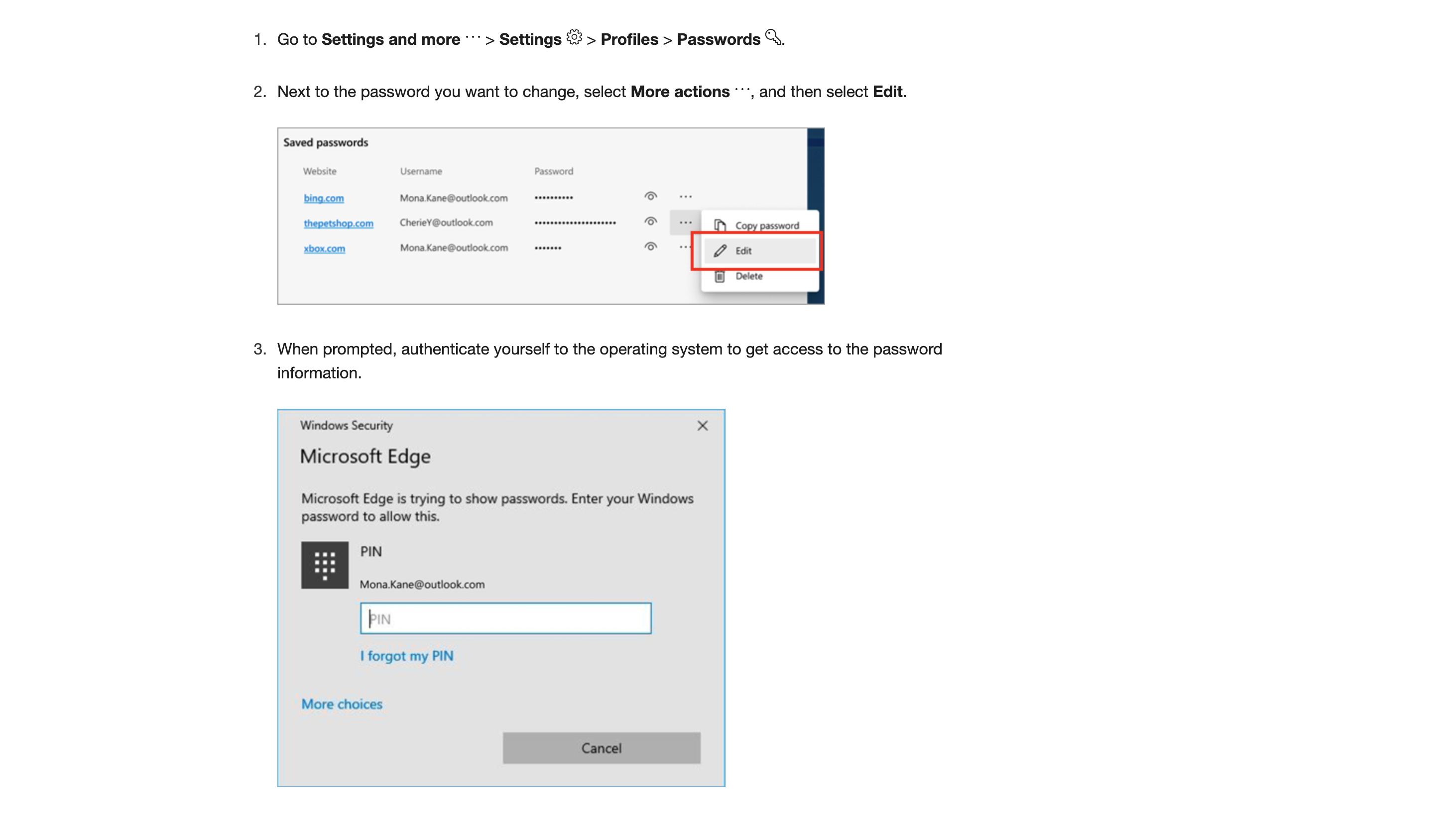 Microsoft Edge Password Manager: Interface and performance
Using Edge's built-in password manager is designed to be seamless and just like Apple and Google's counterparts for their respective browsers, there's no front-facing interface as you would expect with a dedicated password manager like Dashlane or LastPass.
The tool performs well and can easily autofill the relevant credential fields, but don't expect an advanced system as you'd get with iCloud Keychain or Google Password Manager. You can have it suggest passwords, and it will also store your credit card information ready to automatically fill in the right fields at the checkout, but because the browser itself is so young compared with its rivals, there's still some way to go.
According to Statcounter figures, Chrome consistently accounts for around two-thirds of the desktop browser market. Halfway through 2023, Safari occupied around 12% of the market, up from around 10% at the start of the year, while Edge's popularity dropped off with it now accounting for fewer than 10% of desktop browser sessions. Even so, Microsoft continued to invest heavily in its new and shiny browser as it pushes artificial intelligence into each of its four corners following multibillion-dollar investments in OpenAI, the company behind ChatGPT. While the password manager might not be at the forefront, the company's commitment to Edge is clear.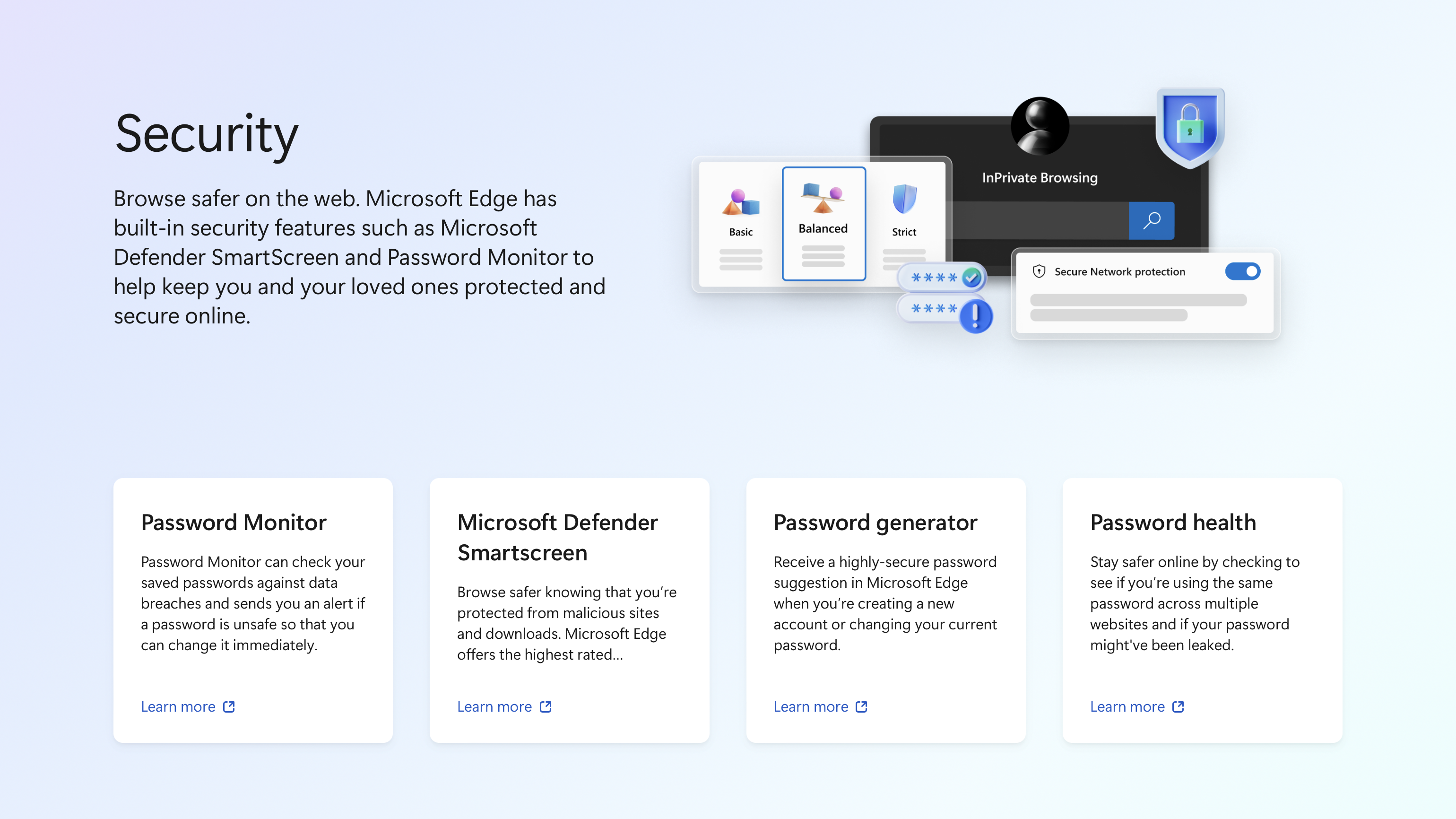 Microsoft Edge Password Manager: Security
Because passwords saved in Edge aren't synced to the cloud, there's a smaller risk of infiltration and breaches, though the risk still remains and users should still do as much as they can to protect their device from malware.
Microsoft says that passwords, credit card numbers, cookies, and other sensitive information is encrypted on disk using  AES, and that the encryption key is saved in an operating system (OS) storage area.
According to Microsoft, "Even if an attacker has admin rights or offline access and can get to the locally stored data, the system is designed to prevent the attacker from getting the plaintext passwords of a user who isn't logged in."
The storage area varies depending on the operating system: for Windows, it's DPAPI. Mac users will have their data stored in Keychain, and Edge for Linux uses Gnome Keyring or KWallet.
Microsoft Edge Password Manager: Customer support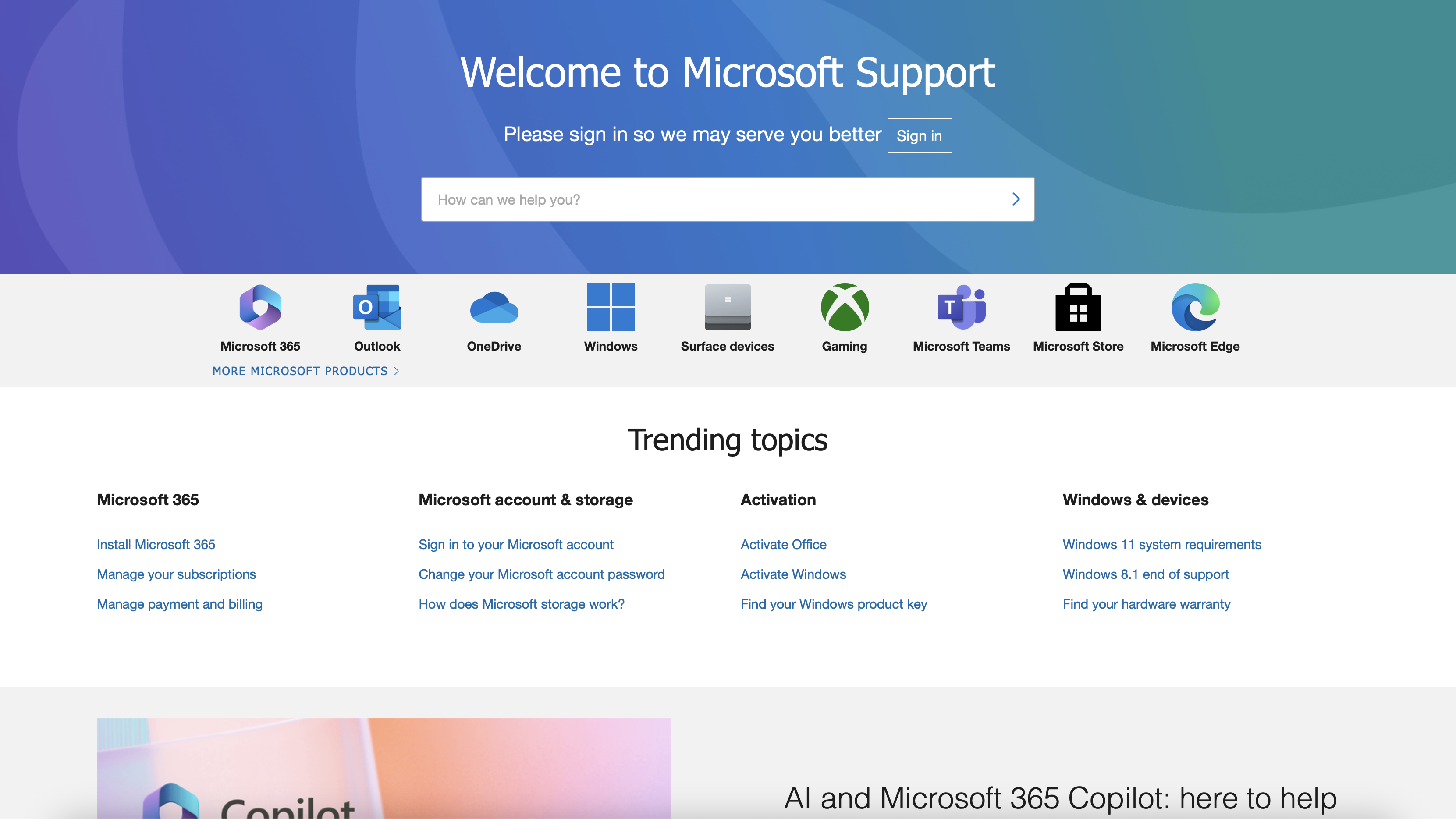 There's an entire online catalog of self-help articles dedicated just to Microsoft Edge as an entire browser solution, including all of its features like its password manager. Getting in touch with a real agent can be a drawn-out process because, like most other companies, Microsoft wants users to troubleshoot as much as possible before having to allocate human resources.
The best customer service comes from users with a Microsoft account, however many Windows users will likely already have one. This includes anybody with a Microsoft 365 account. We feel that getting support could be easier, but we suspect generative AI may soon play a role in how customers access support given the company's huge artificial intelligence investments in recent months. Only time will tell.
Microsoft Edge Password Manager: The competition
There isn't really any direct competition to Edge's password manager because it takes the unpopular route of doing everything locally. Maybe at one point Microsoft will decide to go down the cloud route, at which point it would be most comparable to iCloud Keychain and Google Password Manager.
There are plenty of other free password managers out there too, most of which sync with the cloud though they may have some limitations in terms of devices which might see some users wanting to upgrade to paid plans.
Microsoft Edge Password Manager: Final verdict
Because of the lack of syncing options, Microsoft Edge Password Manager is a little too basic for many computer users to want to choose it. Especially given as most people with a computer also have a phone, and getting the passwords to sync across both devices can be a lifesaver. Very basic users who aren't looking for anything so advanced will be just fine with Edge's answer, but for the most part, swapping browser to use Chrome or Safari will alleviate these access-anywhere concerns.